Halloween can be one of the most exciting times of the year for children, but also one of the most hectic for parents and motorists. As children start trick-or-treating right after dinner, their risk of being injured by a motorist greatly increases. The National Highway Traffic Safety Administration (NHTSA) reports that, Halloween is consistently one of the top three days for pedestrian injuries and fatalities. And the Center of Disease Control and Prevention (CDC) estimates, that children are four times more likely to be struck by a motor vehicle on Halloween than any other day of the year. Because the excitement of trick-or-treating may cause children to forget about safety when walking in and around streets, motorists and parents must remain on high alert.
This Halloween please consider these AAA safety precautions to help make Halloween a safe night of fun for children of all ages:
Motorists:
Slow down in residential neighborhoods and obey traffic signs.
Watch for children walking on roadways, medians and curbs.
Look for children crossing the street outside of crosswalks or in between parked cars.
Carefully enter and exit driveways.
Eliminate any distractions in your car so you can concentrate on the road and your surroundings.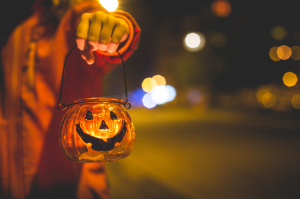 Parents of Trick-or-Treaters:
Make sure your children are visible to motorists – Put retro-reflective tape on their costumes and encourage them to carry a flashlight or glow stick.
Advise them to stay on the sidewalks and avoid walking in the streets if possible. If there are no sidewalks, walk on the left side of the road, facing traffic.
Be predictable – Cross streets only at the corners and crosswalks if at all possible and look both ways before crossing.
Everyone loves a good scare, but not when it comes to child safety! Stay safe this Halloween weekend!