School Bus Safety.
It is estimated that 25 million students nationwide start and end their day with a trip on the school bus. With giant mirrors and flashing lights, these bright yellow buses are the safest mode of transportation for children and keep millions of cars away from school buildings every day.
As discussed in our previous post, "Road Safety 101: Back to School Safety",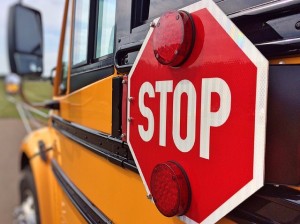 more school-age pedestrians have been killed between the hours of 7 a.m. and 8 a.m. and between 3 p.m. and 4 p.m. than at any other time of day. And although drivers are required by law to stop for a school bus when loading or unloading passengers, they often do not. The National Association of State Directors of Pupil Transportation Services (NASDPTS), conducts an annual survey that observes the number of motorists that illegally pass a school bus on a single day. In the spring of 2016, the survey reported 74,421 violations across 33 states.
Each state has different laws concerning when it is legal/illegal to pass a stopped school bus and different penalties.
Motorists must stop at least 10 feet away from school buses that have their red lights flashing and stop sign arm extended.
Motorists must stop when they are behind a bus, meeting the bus or approaching an intersection where a bus is stopped.
Motorists following or traveling alongside a school bus must also stop until the red lights have stopped flashing, the stop arm is withdrawn, and all children have reached safety.

If

physical barriers (ex. Grassy medians, guide rails or concrete barriers) separate oncoming traffic from the bus, motorists in the opposing lanes may proceed without stopping.
According to PennDOT, the penalties if convicted for violating the school bus stopping law include a $250 fine, five points added to the violator's driving record and a 60 day driver's license suspension.
Every year, children are needlessly injured or killed by drivers passing a stopped school bus. Please drive carefully this school year and when in doubt, stop.