Starting June 6th, 2018, Pennsylvania residents will no longer be able to fly with their PA driver's license.
As an attempt to prevent further terrorism and unlawful entry into the country after September 11th, Congress passed the REAL ID Act. This act established, minimum-security standards for state-issued driver's licenses and identification cards and prohibits federal agencies from accepting for official purposes from states that do not meet these standards. Each state is therefore required to incorporate anti-counterfeit technology and strategically incorporate a star somewhere on the license to signify compliance. Applicants will also be required to present a photo ID document, valid birth certificate, social security number and proof of legal U.S residency to verify their identity when renewing/applying for a license.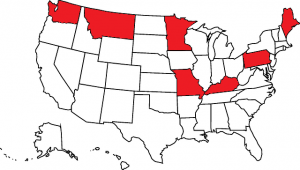 Pennsylvania and six other states are currently not in full compliance with these REAL ID requirements. Participation at the state level is voluntary because this mandate is unfunded by the federal government. The financial obligation will rest solely on the state. According to PennDOT Secretary Leslie S. Richards, "We are out of compliance for limited technical reasons and because existing state law bars us from fully complying." Pennsylvania will need more time to make additional system changes to accommodate a fully compliant REAL ID.
So until then, prepare yourself for June 2018. Unless you live in a state that is already compliant with REAL ID requirements or has received an extension, you will need to provide an alternative form of identification. It is also important to note that this will only affect adults 18 years and over, who are required to show a valid form of ID at airport security.
Here is a list of TSA acceptable forms of identification to use instead of your PA Driver's License:
U.S. Passport
U.S. Passport Card
U.S. Military ID
Permanent residence card
Airport issued ID
It is important to note that Pennsylvania residents will still be able to use their state-issued driver's license at the airport until June 6th, 2018.
For a complete list of TSA acceptable identification, please visit the TSA website:
https://www.tsa.gov/travel/security-screening/identification
To see if your state is compliant with the REAL ID Act please visit:
https://www.dhs.gov/current-status-states-territories