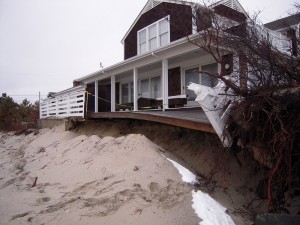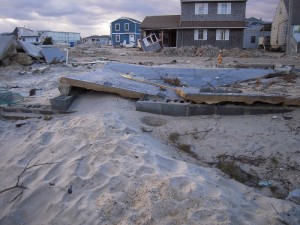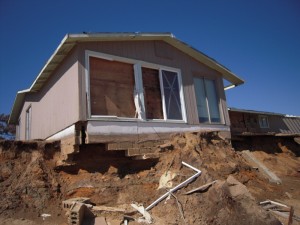 As a forensic engineering firm, one of our areas of practice includes assessing insurance claims. In the aftermath of Superstorm Sandy, many structural and civil engineers were tasked with investigating insurance claims and utilizing their expertise to determine whether damage to policyholders' homes was the result of the hurricane or if the damage predated the storm. The pictures in this blog post are examples of Sandy-related damage claims that Bergman Engineering handled in the aftermath of the Superstorm.
A little over two years after the storm, allegations have emerged of "doctored" damage reports and possible underpayments on flood insurance settlements to homeowners affected by Superstorm Sandy. A group of approximately 1,500 homeowners in New York and New Jersey are accusing certain engineering firms of issuing "bogus" reports to insurance companies that allowed insurers to deny coverage in many damage claims filed in the aftermath of Superstorm Sandy.
According to the homeowners involved in the lawsuit, the structural engineers that assessed damage to their homes issued reports to insurance companies that falsely attributed Sandy-related flood damage to things like poor construction, old age, and long-term settling of the soil.
Some engineers who were involved with post-Sandy damage assessments assert that the storm merely exposed preexisting hidden problems that homeowners were unaware of, but now have come to light. Thus, although Sandy exposed the problem, it does not necessarily mean the storm was responsible for causing the damage.
Although the above assertion is likely true in certain cases, the issue has recently gained attention in the wake of a ruling in November 2014 in which a federal judge ruled that an engineering report assessing the damage to a house in Long Beach had secretly been rewritten. Evidence revealed that after an engineer's initial assessment that "the flood caused irreparable structural damage", the report was doctored by a supervisor to reflect instead that the damage was caused by structural defects, an assessment which resulted in the bulk of the insurance claim being denied. This case caused a political uproar, which has led FEMA (Federal Emergency Management Agency) to launch an investigation into similar claims of doctored reports by two engineering firms linked to the allegations.
U.S. Magistrate Judge Gary Brown has ordered insurance companies involved in Sandy-related claims to turn over records, which may indicate that they improperly minimized payouts to hundreds or thousands of storm victims. FEMA Administrator Craig Fugate has expressed deep concern about what he calls "disreputable engineering practices."
One thing that is unclear, however, is what incentive insurance companies have to deny coverage. Since most of the claims were being processed for FEMA, insurers' own money was not at stake. Furthermore, insurance companies are paid marginally more by the government when they approve a claim rather than deny one. It simply does not make sense why insurance companies would try to sway the assessments given by engineers.
At Bergman Engineering, we provide objective assessments, and we hold ourselves to the highest ethical standards. If it turns out that engineering firms were involved with intentionally doctoring reports in an effort to underpay policyholders, we hope that the public will not lose faith in the vast majority of engineers who share our goal of bringing clarity to complexity and helping people understand the root of an issue.